The former enfant terrible, light-welterweight contender Ohara Davies insists he has "grown up and calmed down".
The 31-year-old from Hackney, known as 'Two Tanks', turned pro in 2014. Since then he has frequently been featured in tabloids, while engaging in vicious spats with other boxing figures.
Now looking forward to a career-defining fight with Newcastle's Lewis Ritson on 4 March, he says he is steadier, more measured.
"My career's had ups and downs," he says softly.
"And yes, many of the downs have been my fault. Things that I've said, the way that I've acted.
"There's been some injustice, too, but I'm not interested in playing the villain anymore," he adds.
"Now I'm being me."
'I came to love the image of being the bad guy'
To some degree, Davies has found himself caught in the catch-22 faced by many boxers for much of his career.
Fighters are pressured to sell themselves, to be marketable. The social media age demands that more than ever and courting controversy is one way to attract attention.
"I'm not a media-trained puppet like some of these guys, who speak a certain way and say certain things to keep sponsors happy," Davies says.
"I've always tried to express myself, but I was never a massive ticket seller. It's tough to get friends and acquaintances to buy tickets every time you fight.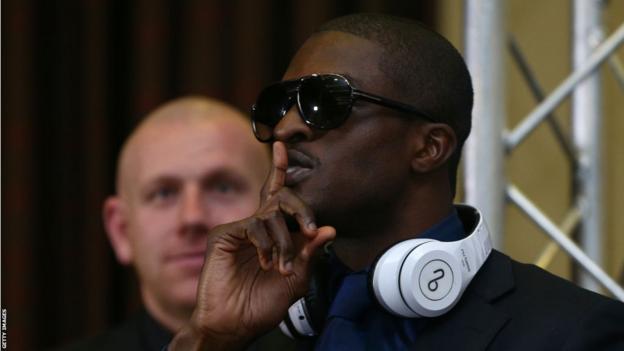 "In my second pro fight, I only just covered the basic expenses. I think I made a hundred pounds."
These harsh realities led Davies to a personal realisation. The decision he made early on would shape his career.
"I said to myself that for this to work, I needed to be a personality, an entertainer, be brash," he explains.
"I didn't have enough people paying to watch me win, so instead I would entice people who wanted to see me lose.
"And it worked. I boxed Derry Mathews in 2017 at the O2 in London, and it was packed. He's from Liverpool but the whole arena was on his side.
"I was booed in my hometown. But the funny thing is, it felt great. I got a surge of adrenaline and finished him in three rounds.
"I came to love that, that image of being the bad guy."
It was this decision to be the agitator that contributed to Davies' most controversial moment in 2017, an incident which saw him dropped by former promoter, Eddie Hearn of Matchroom Sport.
While promoting a fight with Hull's Tommy Coyle, Davies made comments about the Sun newspaper on Twitter.
Coyle was a vocal critic of The Sun because of its coverage of the Hillsborough disaster, in which 97 fans died as a result of a crush during the FA Cup semi-final between Liverpool and Nottingham Forest on 15 April 1989.
Davies responded by urging his followers to "buy the Sun".
He apologised but Hearn cancelled his promotional contract as a result.
"The fans don't like me, which made it easy for promoters to treat me a certain way. If they treated another boxer like that, there would be a backlash," Davies claims.
"They thought I was disrespecting the families of the tragedy, but I was just replying to and goading my opponent, simple as that.
"To be honest, when I wrote that particular tweet, I had never even heard of the Hillsborough disaster.
"But people chose to interpret it that way and I was thrown under the bus, which caused a massive delay in my career."
'The biggest fight of my career'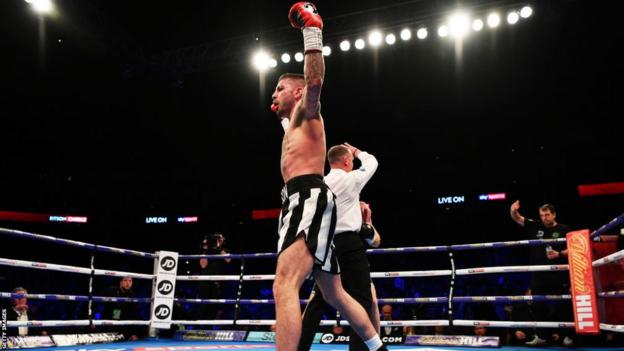 Hotly tipped from his early days, Davies' only defeats have come against world-class opposition.
He was stopped in seven rounds by Josh Taylor in 2017, who went on to become the UK's first undisputed champion in the four-belt era.
In 2018 he was narrowly outpointed by Jack Catterall, who lost a very controversial decision to Taylor in their world title match-up last year.
Now on a run of six wins and ranked world number two by the WBA, Davies finds himself pitted against Ritson, in a final eliminator to box champion Alberto Puello.
Ritson was once much hyped himself, but a defeat for the European lightweight title in 2018 and a stoppage loss to Argentine Jeremias Ponce in 2021 have slowed his momentum.
In many ways the two fighters are at a similar point in their careers and the loser will have some serious thinking to do.
Perhaps because of this, and contrasting with his fiery outbursts of the past, Davies feels some kinship for his 29-year-old opponent.
"I've never met Lewis in person, but people say he's a nice guy," he says.
"He's like all the rest of us, fighting to feed his family and I've got nothing bad to say about him.
"Actually, I think maybe he's being a bit underrated these days, because he hasn't lost the talent and skill he had before. I've been watching and studying him.
"He has a long reach and is very busy, but I believe I carry more power.
"I know this isn't going to be an easy fight, which is why I'm working day in and day out."
Nine years as a professional have taught the former teenage gang member valuable lessons.
"As a kid I was going nowhere," he admits.
"I was in Crown Court for attempted murder and a class A drugs charge when I was 15. Boxing brought me out of that. So, I'm thankful. I have to be.
"I'm still young. I've still got years in the game and I'm in the biggest fight of my career."